With such an emphasis on clean, green skincare, you'd be forgiven for forgetting to consider the ingredients in your less glamorous everyday personal products – like deodorant. However, as traditional deodorants are often filled with toxins that can harm the skin, it really is worth switching to natural deodorant. Why? We explain the benefits of natural deodorant below and answer your burning questions, including 'is deodorant bad for you?', 'does natural deodorant really work?' and 'why use natural deodorant?'. Ready? Let's dive right in… 
In this article… 
Is deodorant bad for you?
It's no surprise that traditional deodorants are some of the most toxin-packed products available, given that they're formulated specifically to clog the skin follicles to prevent sweating! 
In many traditional deodorants, heavy metals (such as aluminium) are the primary ingredient used to physically stop sweating. Other less desirable ingredients commonly found in chemical-based deodorants include parabens and triclosan (which is actually a pesticide!). 
Benefits of natural deodorant
So, why use natural deodorant? Well, despite being applied topically, the toxins found in many skincare products are easily absorbed through the skin and into our bodies – particularly when applied onto the underarms.  
The underarm is one of the body's primary entry and exit points, and if this point is blocked with unnecessary chemicals found in traditional deodorants, we're unable to sweat out the fluids and toxins that our body needs to release.  
A natural deodorant, however, will deodorise your sweat, preventing unwanted odour without clogging the pores with parabens and heavy metals.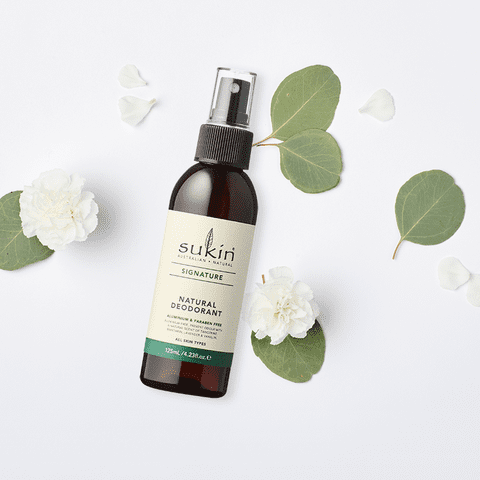 Does natural deodorant work?
A common misconception about natural health and beauty products is that they don't work or deliver the same results as their chemical-filled counterparts – but rest assured, the best natural deodorants are just as effective at preventing odour and keeping you feeling fresh as traditional deodorant. In fact, the right natural deodorant will deliver on efficacy without any potentially harmful ingredients.  
The best natural deodorant
Sukin's natural deodorants are not only free from aluminium, but also comply with the rest of Sukin's famed "No List," meaning they're free from parabens, triclosan and mineral oils.  
Instead, these aluminium-free deodorants contains a blend of Aloe Vera, Burdock and Nettle Extracts, as well as citrus, tangerine, mandarin, lavender and vanilla to leave a fresh scent on the skin, keeping unwanted odour at bay.