Toning seems to be the one step in a skincare routine that has the most people baffled. What is toner? What does toner do for your face? Which toner should I use? We answer all your burning questions and take a look into face toner benefits and the best natural toner for your skin type. 
What is face toner?
Toner may look like water, but it's so much more than that. It can contain hydrators, antioxidants and acids that hydrate and cleanse, and prepare the skin for the next steps of your skincare routine.  
What does face toner do?
Still asking what is toner used for? Read these face toner benefits:  
Astringent: Toner works as an astringent to remove excess oil and tone pores after cleansing 

 

Refreshing: Toner can refresh the skin after cleansing 

 

Spritzing: Toner can rehydrate and brighten  

 

Priming: Toner primes the skin for the next steps of your skincare routine and can help to set makeup  

 
Essentially, your toner works in conjunction with the rest of your routine to perform additional functions, including providing extra hydration, removing remaining traces of dirt, balancing oils post-cleansing and providing you with blemish control.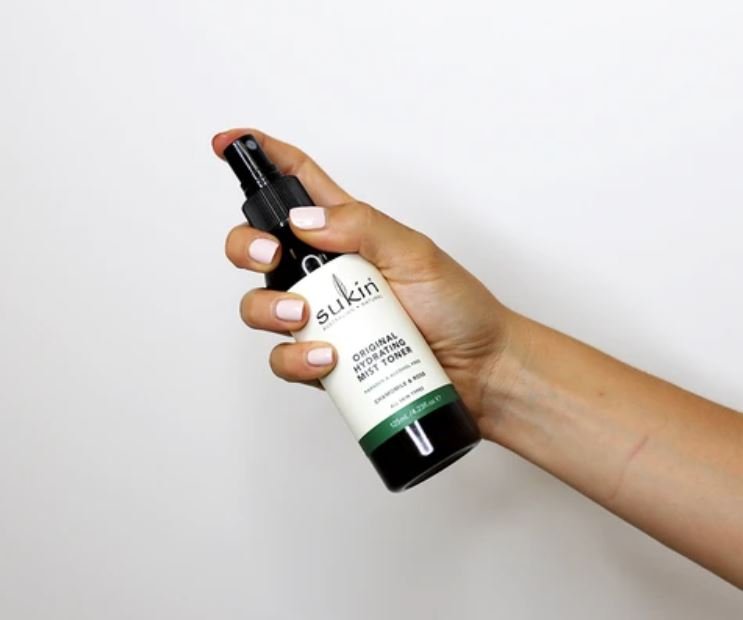 How to use toner on face
Toner should be applied onto dry skin after cleansing. It can either be spritzed directly onto the skin or applied onto a cotton pad then swept over the face and neck. Wait 2 minutes before applying serum and moisturiser.   
Which toner should I use?
Now you know what toner does, you're no doubt desperate to find one to suit your skin needs. Our guide will help find the best face toner for you. 
Buy now

with SukinJournal

Toning is particularly beneficial for oily skin as it can help balance the natural oils after cleansing.  

The best toner for oily skin is one with natural ingredients, as synthetic astringents that can over strip the skin of oils.   

The Sukin Clarifying Facial Tonic is the best toner for combination skin or oily skin. A blend of White Tea and Quince Extracts help to revitalise oily skin, tighten pores, refine skin texture, and limit shine. 

With antioxidant-rich Pomegranate and Bilberry Extracts, this oily skin toner promotes a balanced complexion, and Aloe Vera, Chamomile and Cucumber Extracts help to soothe and calm.  

Buy now with free delivery

Buy now

with SukinJournal

A toner for dry skin can help to infuse the skin with extra moisture after cleansing, keeping the complexion looking plump and bright throughout the day.    

The Sukin Hydrating Mist Toner blends Chamomile with Rosewater to help soothe, purify and cool, while keeping dry skin hydrated.

Buy now with free delivery

Buy now

with SukinJournal

Using a toner for mature skin can help to firm the skin and support the appearance of a smoother and more toned complexion 

The Sukin Purely Ageless Firming Mist Toner is formulated with Pure Ribose, Acai and Goji Berry Extract to help hydrate and firm the skin. This antioxidant rich mist can be used after cleansing, before and after applying makeup, or any time your skin feels tired or stressed. We've said it before and we'll say it again, it's the best toner for mature skin!

If you are trying a product or ingredient for the first time, we always recommend a patch test first.

Discover the difference between face oil and serum, and where to find the best face oils and serums for your skin type.

Find the best skincare products for your skin type and discover the correct order to apply them in.

We explain how to hydrate skin from the inside - out in this simple guide.

Buy now with free delivery