Is your skin looking oily, feeling congested and prone to acne? Chances are you have naturally oily skin.  
If a smooth, clear, matte complexion feels out of reach, it may be time to start building a skin care routine for oily skin with products specifically formulated to balance out oil levels. Keep reading to discover the best products for oily skin and how to use them in your routine.  
What is oily skin?
Oily skin produces excess sebum, often looks shiny and is prone to congestion and breakouts.  
One of the easiest ways to identify an oily skin type is to give yourself a quick blotting paper test during the day (you don't need specific blotting paper- a tissue or regular paper will do the trick)! 
Gently press the paper into your forehead, chin and cheeks, then hold the paper up to the light- if the sheet picked up a lot of oil, your skin is naturally oily. 
Causes of oily skin
Oily skin is caused by an overproduction of sebum, the skin's natural moisturiser. Too much sebum can cause blocked pores, which is why oily skin is often prone to blemishes.  
Wondering how to get rid of oily skin? Build an oily skin routine rich in purifying, mattifying ingredients and products designed to extract and clear imperfections. 
Skin care routine for oily skin
The ideal skin care routine for oily skin is one that balances oil production without stripping skin of its all-important natural oils that help to protect from environmental damage.  
The best products for oily skin give the pores a deep cleanse, clarify the surface of the skin and balance sebum levels. Charcoal is a particularly effective natural ingredient for detoxifying the skin, drawing out impurities and soaking up excess oil.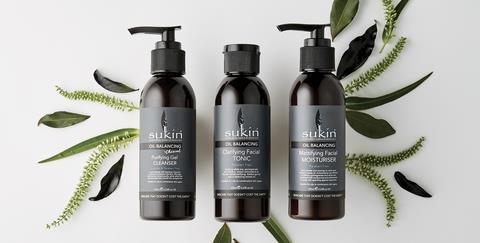 Step 1: Cleanse 
The best cleanser for oily skin is a gel one, like the Sukin Oil Balancing Purifying Gel Cleanser. It's the ideal first step in your oily skin care routine, working to remove excess oil, dirt, grime, and bacteria without stripping the skin. 
This particular oily skin cleanser contains Bamboo Charcoal to remove toxins and unnecessary oils, while Moringa, Coconut, Rooibos, and Willowherb Extracts work together to keep the complexion looking and feeling clear.