Confused by your skin type? Combination skin can lean towards either oily or dry depending on the area of the face, so it's important to choose skincare products that take those differing conditions into consideration. To balance your skin and clear your complexion, follow our simple skin care routine for combination skin. 
What is combination skin? 
Those with a combination skin type will suffer from both oiliness and dryness on various parts of the face. The most common area for oil overproduction is the T zone (the forehead, nose and chin), while the most common area for dry skin is the cheeks- if you find yourself requiring blotting papers for the T zone as the day goes on but are experiencing an uncomfortable tight feeling on the cheeks, you have combination skin.To ensure your skin functions as neither overly oily nor overly dry, look for products that are still hydrating but work to balance the skin's natural oil production. This balance will allow for consistency across the skin.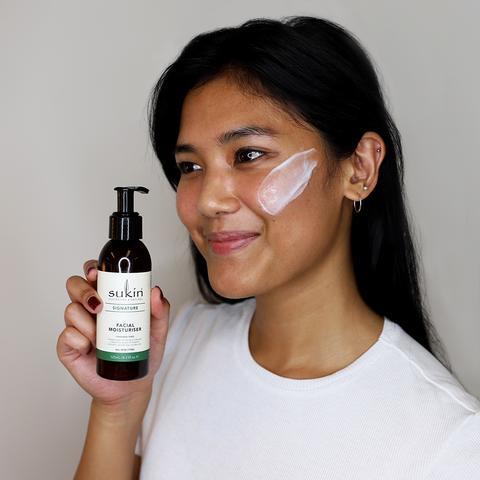 Skin care routine for combination skin
Sukin's signature collection works to naturally balance the skin's oil production, hydrate the skin where needed and protect the skin from environmental damage. To keep your combination skin in check, use the treatment phase in your routine to really cater to your skin's needs and switch things up depending on how your skin is feeling on any given day, then keep the rest of your routine consistent.
Step 1: Cleanse
Begin by removing any makeup or grime with Sukin's Micellar Cleansing Water, then give the skin a deep cleanse with the Sukin Cream Cleanser. Whatever your skin type, a deep cleanse is essential for removing any bacteria that has built up throughout the day or night, unblocking clogged pores and balancing the skin's oil production. This cleanser includes Rosehip, Avocado, Sesame and Wheat Germ Oils to nourish the skin while Aloe Vera, Cocoa Butter, Nettle and Horsetail leave the skin looking and feeling clean.