When we suffer from a skin breakout, our first instinct is often to reach for a harsh, chemical-packed acne treatment. But, did you know that face blemishes can be treated with natural spot treatment and skincare products?  
Wondering how to get rid of blemishes with natural products? Keep reading to discover the best skincare for spots to help reduce the appearance of face blemishes. 
What are blemishes? 
Facial blemishes are caused by an overproduction of sebum, which leads to blocked glands and clogged pores. They can be triggered by a number of factors:  
A reaction to topical products 

 

Diet 

 

Stress 

 

Hormones 

 

Genetics 

 

Environmental factors 

 
To get rid of acne blemishes, many will reach for harsh, chemical-based products. While this may work to dry out excess oil and blemish causing bacteria, these products can compromise the skin's natural healthy function.  
Rather than choosing synthetic skincare for blemishes, consider a natural spot treatment.   
Which chemicals can be found in
skincare for blemishes
?
One of the most prominent ingredients found in traditional skincare for spots is Benzoyl Peroxide. While this can kill bacteria easily, it can leave the skin dry, red, and irritated.  
Azelaic Acid is another potentially synthetic ingredient commonly found in skincare for blemishes. While it works to exfoliate the skin and unclog the pores, it can also leave skin red and itchy.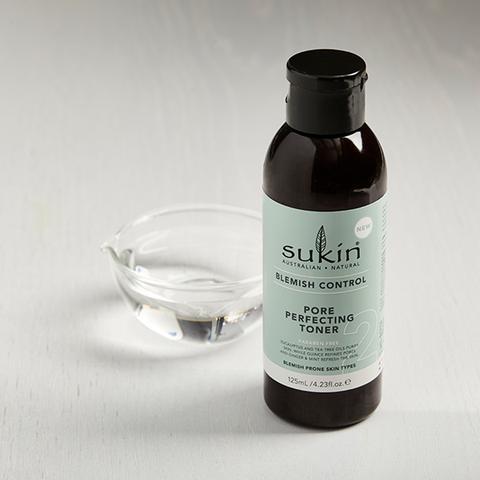 Natural
skincare for blemishes
Sukin harnesses natural blemish reducing properties from a blend of Eucalyptus Oil, Tea Tree Oil, and Salicylic Acid to create the best products for face blemishes. 
This combination gently assists in clearing the pores and ridding blemish prone skin of dead cells, while helping to reduce the inflammation associated with spots on the face. 
Sukin's Blemish Control range uses Willowherb and Quince, rather than chemical Azelaic Acid, to naturally minimise the appearance of pores, facial blemishes, and surface redness.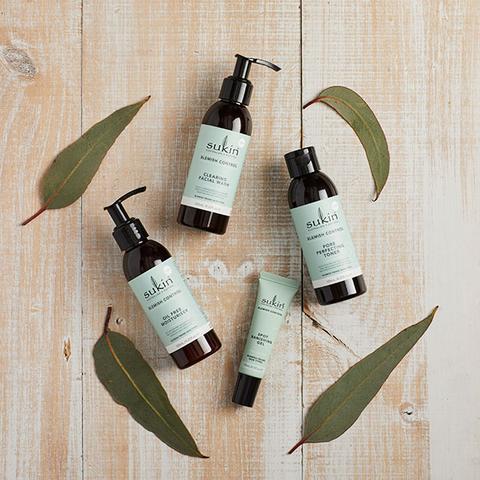 How to get rid of blemishes
To treat face blemishes, you should introduce natural skincare products into your routine, ensuring that each step works harmoniously with the next. 
Our Blemish Control range works to fight the cause of face blemishes within just 30 minutes. Rather than drying out the skin and causing further irritation, this skincare for blemishes helps to fight imperfections at their source without compromising skin's health. 
Step 1. Gently cleanse
Remove dirt, makeup, and environmental pollutants from the skin by applying a small amount of our Blemish Control Clearing Facial Wash to the skin and lather with water. Gently massage the cleanser for blemish prone skin into the face, then rinse thoroughly and pat dry.