Dry, cool air, and warm indoor heating- it feels like there's no escape from the stressors that cause dehydrated skin. The solution? Learn how to hydrate skin from the inside – out!  
With hydrated skin both inside and out, you can double your defences against the factors that leave us with dull, sensitive and dehydrated skin. Keep reading to find out how to keep skin hydrated and the best dehydrated skin products to use.
What causes dehydrated skin? 
Not to be confused with dry skin (which is a skin type characterised by a lack of oil) dehydrated skin is lacking water. It can be caused by a number of internal and environmental stressors that rapidly dehydrate the skin: 
Dry air – it's so low in humidity, it tries to suck up any nearby moisture

 

Cool wind

 

Artificial indoor heating

 

Air-con

 
This is why dehydration is often exacerbated during the winter and while working indoors!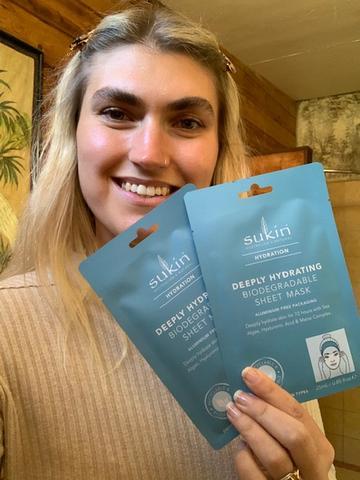 How to hydrate skin from within
Drink more water
Given that a lack of water leads to dehydrated skin, upping your water intake is the best way to hydrate skin. 
Make sure you're drinking around 2 litres (8 cups) of water each day to hydrate skin and heal it from the inside. If you find yourself sweating a lot, it's important to up your water intake to counteract that fluid loss for well-hydrated skin.
Omega-3 rich diet
Wondering how to get glowing skin? Work foods rich in omega-3 fatty acids into your diet: 
Salmon

 

Tuna

 

Mackerel

 

Chia seeds

 

Flaxseed

 

Walnuts

 
These foods will help build up your skin's natural protective barrier, allowing you to defend yourself and your skin from environmental stressors for hydrated skin.
How to hydrate skin from the outside: best products for dehydrated skin 
It's essential to hydrate skin with topical skincare products rather than simply relying on your water intake.  
If you're asking how to fix dehydrated skin, choose products specifically formulated to restore moisture. Look for ingredients that don't just hydrate the skin, but work to restore and build upon that natural moisture barrier to keep skin protected from environmental factors, like dry air. 
Sukin's new Hydration Range has spent more than two years in development and is, at long last, available to you with the best products for dehydrated skin. The blend, containing Maize Complex, Hyaluronic Acid and Sea Algae, works to naturally attract and bind moisture to the skin, retain water within the skin cells, protect the skin's barrier and soothe dehydrated skin.