Cleansing should be one of the first steps in any skincare regimen, regardless of your skin type, as it's essential in ensuring your skin is as clean as it can be. But what is cleanser exactly? And what does cleanser really do? 
Whether you're wondering how to use cleanser or how to choose the best cleanser for your skin type, we've put together this quick guide to cleansing to get you started.
What is a cleanser?
As its name suggests, a cleanser cleans the skin. Between makeup, oil, sweat, and pollution, our skin faces the elements and is put through a lot each day. The best cleanser will provide you with a clean, fresh canvas, free from blemish–causing dirt and excess oil.
What does cleanser do?
Cleanser removes grime, oil and makeup from the skin's surface and within the pores. 
Just as a soap or body wash cleans the body, a cleanser helps to erase oil build-up while prepping skin for the next steps in your skincare routine. It leaves a clean base so that the rest of your products can effectively do their job.
What does cleanser do differently to your normal body wash?
Washing your face with soap simply won't cut it. The pH balance of the skin on your body is drastically different to the skin on the face, so it's important to choose a facial cleanser that works with the natural function of the skin.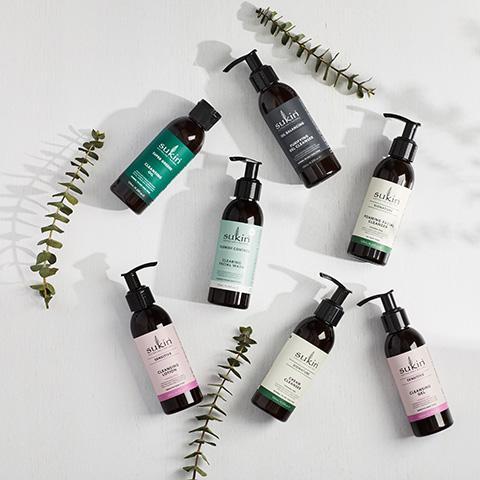 How to choose the best cleanser for your skin type 
Best cleanser for oily and acne-prone skin
The best cleanser for oily skin or those prone to acne is a lightweight gel cleanser, like the Sukin Oil Balancing Purifying Gel Cleanser. 
A gel cleanser gently cleans the skin without adding any oils. This particular cleanser is also rich in Bamboo Charcoal, which helps to extract and absorb toxins and excess oils, making it the best facial cleanser for acne. Alternatively, a great face cleanser for acne or oily skin is our Sukin Blemish Control Cleansing Facial Wash.