Once reserved for special occasions or evenings of pampering, face masques are finally becoming an integral part of many people's skincare routine – but when and how do you apply a facial masque? And what are the best face masques for your skin type? We've put together this quick guide to answer your masquing questions.  
What is a
 face
 masque? 
Face masques (or masques) provide a concentrated skin treatment, with more potent ingredients than your daily topical skincare. They're formulated to be worn on the skin for a short period of time before being rinsed off.  
All Sukin masques are creamy in their consistency (as opposed to sheet masques) and designed to be painted onto the skin. They should be left to work their magic for around 15 minutes to target specific skin concerns.  
How to apply a 
face 
masque 
Using either a small brush or clean fingertips, apply your face masque onto clean skin (after cleansing but before applying serum or moisturiser). Relax for 15 minutes, then rinse off with warm water and a gentle cloth.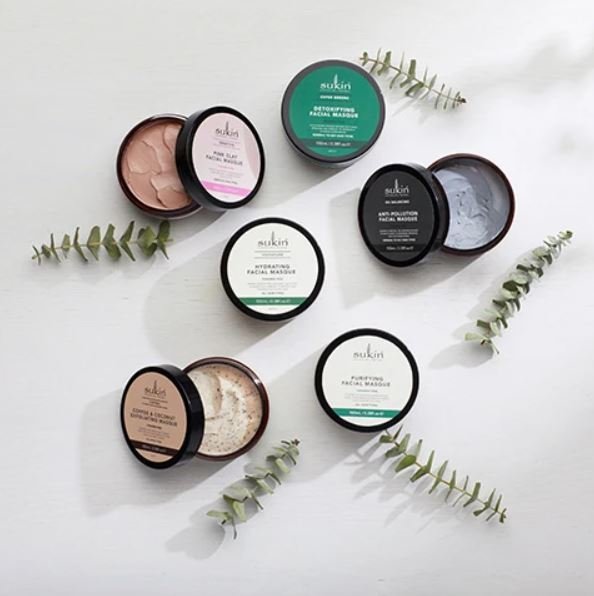 When to use a 
face 
masque
Gone are the days of saving face masques for special occasions. Sukin masques can be used morning or night as part of a skincare routine, or to prepare skin for makeup application.   
Which
 face
 masque is right for your skin type? 
Buy now

with SukinJournal

The best face masques for oily skin are rich in detoxifying ingredients. Charcoal is a wonderful oily skin salve, as it works to extract grime and bacteria from deep within the pores, absorbing excess oil and mattifying the skin's surface.  

The Sukin Oil Balancing Anti-Pollution Facial Masque is perfect for oily skin as it harnesses charcoal's ability to draw those impurities out from beneath the skin's surface while Quince, Bilberry and Pomegranate Extracts work to visibly tighten the pores.  

Buy now with free delivery